Covid-19: A-level and GCSE results planned for early July
By Sean Coughlan
BBC News family and education correspondent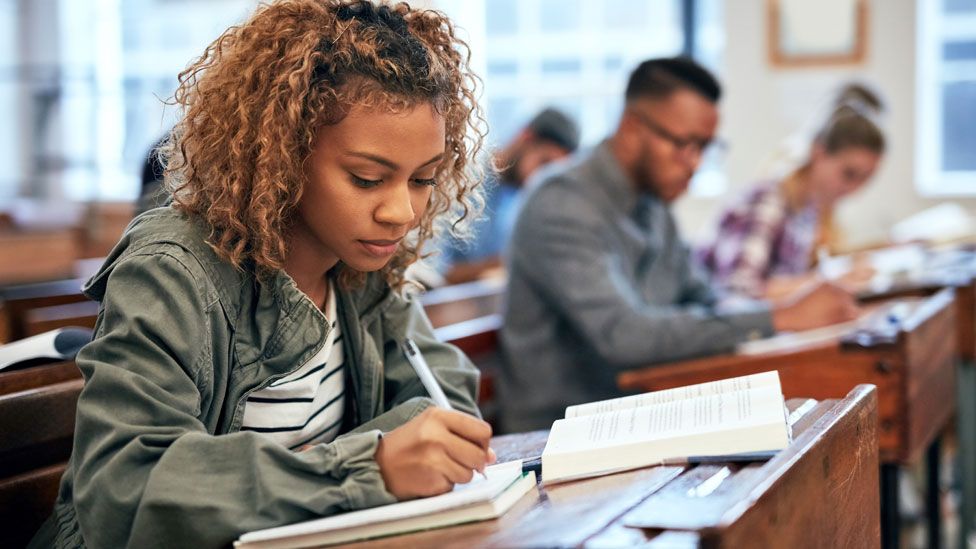 Exam results for A-levels and GCSEs in England could be published in early July this year, according to proposals for replacing cancelled exams.
A consultation launched by the exams watchdog and the Department for Education confirmed that grades will be decided by teacher assessment.
But results this summer are likely to be released much earlier than usual.
Education Secretary Gavin Williamson said pupils would receive "a grade that reflects their ability".
There are also likely to be written test papers set by exam boards, but marked by teachers, with some later checks if there are concerns about fairness.
For vocational qualifications, exams which use mostly written papers are also likely to use teachers' grades – but qualifications which need a test of practical, hands-on skills will have separate arrangements.
No August results days
Ofqual and the Department for Education have formally launched a two-week consultation on a system for how results will be decided, after disruption from the pandemic forced the cancellation of exams.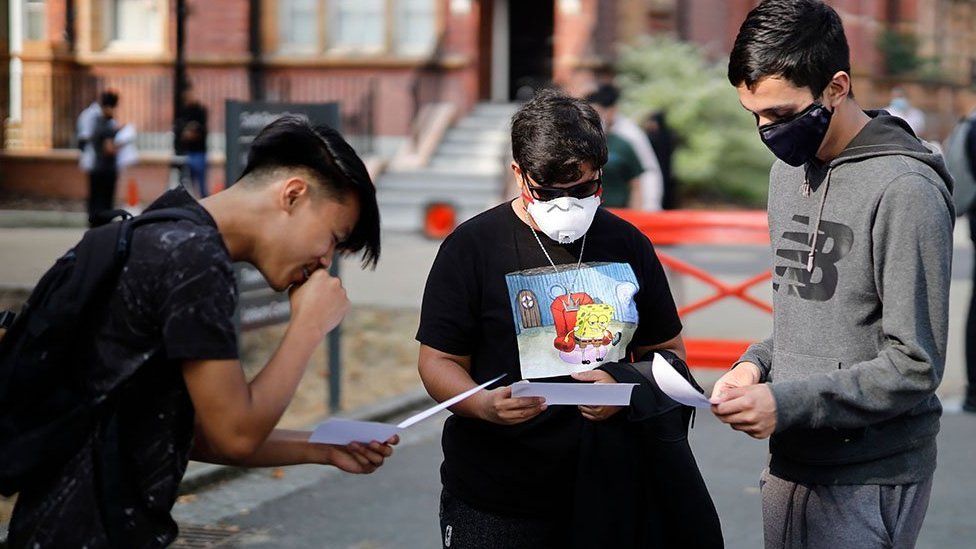 For A-levels and GCSEs this could see the scrapping of the traditional results days in August, with a proposal to publish the results in "early July", increasing the time for appeals and adding more time before the start of the university term.
Last year the process of replacement results ended with U-turns and confusion, as an algorithm initially used for deciding grades was abandoned and teachers' assessments used instead.
This time there will be no algorithm, but from the outset the process will rely on the judgement of teachers, who will be asked to use evidence such as coursework, essays, homework and mock exams.
There are also proposals for test papers, or mini-exams, which would be set by examiners but which would be likely to be marked within schools by teachers.


At-a-glance replacement 2021 exams plans:
Teachers provide replacement grades for A-levels and GCSEs
Evidence could include coursework, essays, tests and homework
External tests set by exam boards, but likely to be marked in school
Results early July
Vocational exams will use teachers' grades, but separate arrangements for practical skills
Two-week consultation before any final decision


These would inform teachers' decisions rather than be a fixed proportion of the final grade – and could be used as evidence for any scrutiny of the reliability of a school's results or if there were appeals over grades.
There is also a recognition they might have to be taken by some pupils at home.
But it has still to be decided whether it would be mandatory to take these exams, and whether there would be a single paper per subject or the option to take more.
Disrupted learning
The Department for Education has said pupils will not face tests in subject areas they have not covered.
Geoff Barton, leader of the ASCL head teachers' union, said the proposals seemed "sensible".
But he said the written tests would have to be "exceptionally well designed" to make them fair between students "whose learning has been disrupted by the pandemic to greatly varying extents".
"There are still many questions left unanswered," said the National Education Union's co-leader Kevin Courtney, about how tests could be flexible enough and how appeals will be decided.
There will be a process of training teachers in how the grading system will operate and be consistent between different schools.
For vocational qualifications, the proposals say those closer to written A-level and GCSE exams will be graded in a similar way to the academic exams, using teacher assessment to replace written papers.
There will be different approaches for qualifications requiring proof of practical skills, but there will be arrangements to make this possible.
Some BTec exams have already gone ahead this month and IGCSE exams are still planned to continue this summer.
A-levels and GCSEs have been cancelled in Wales and Northern Ireland, and in Scotland the Nationals, Highers and Advanced Highers have also been scrapped.
England's Education Secretary, Mr Williamson, said: "Fairness to young people has been and will continue to be fundamental to every decision we take on these issues."